Are you looking for a Canmore wedding venue? Do you want a wedding ceremony outside surrounded by the mountains, but need a backup indoor location too? Do you want to offer your guests incredible Rocky Mountain inspired food? Do you want a venue that will take care of all the little details so you can enjoy your wedding day?
Well, we know an amazing spot in Canmore you will absolutely want to check-out because they answer all of the above questions with flying colours - Cornerstone Theatre.
Today we are diving into all of the details and questions you have about your wedding ceremony and reception with Cornerstone Theatre. Be sure to read on for all the info you need...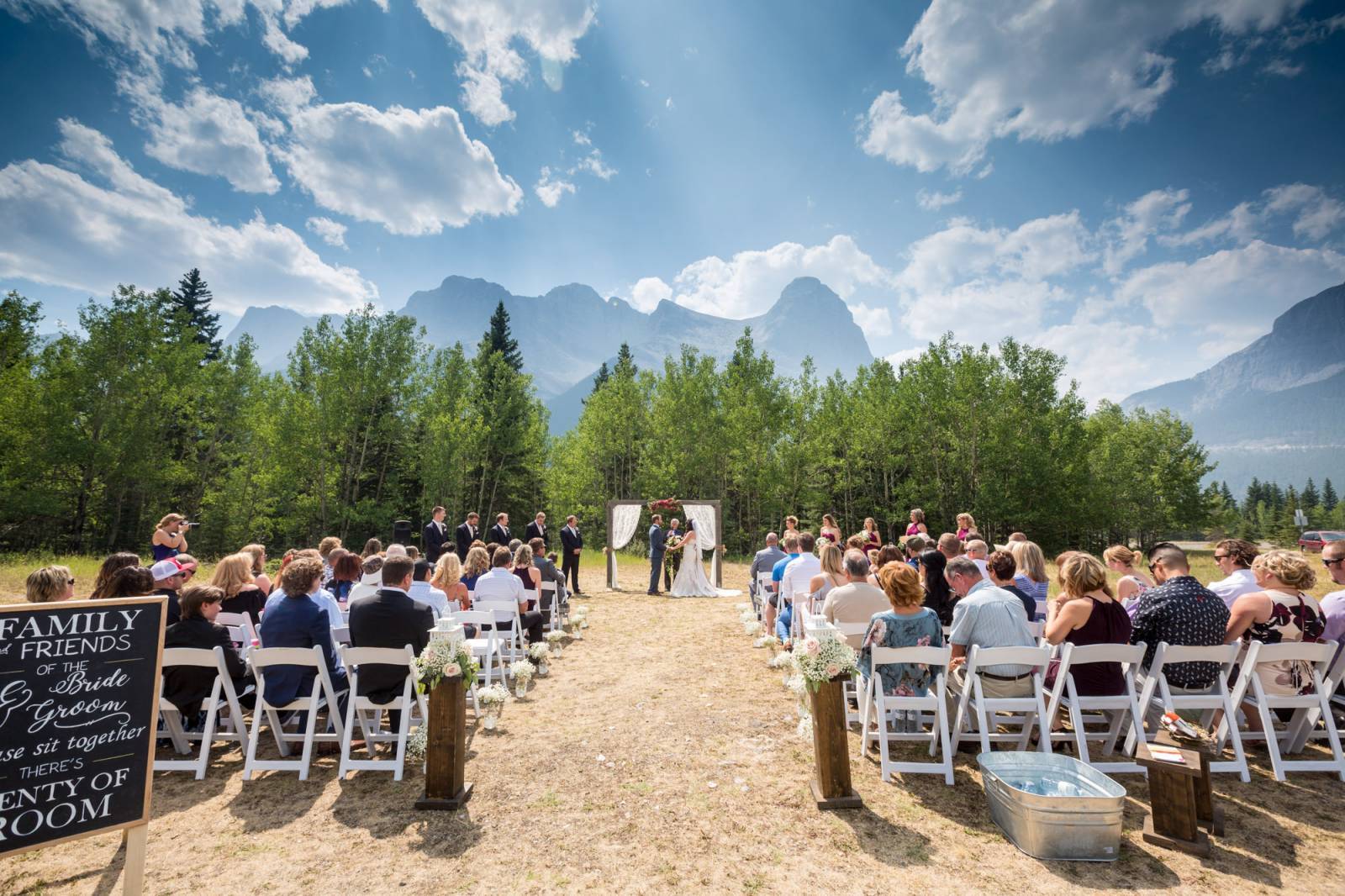 THE BASICS:
1. How many people does your venue seat?
The theatre can host weddings up to 200 guests


2. What type of ceremony options do you have?
We have a few ceremony options for our couples. Indoor at the theatre is great for a fall or winter wedding or if couples don't want to rely on the summer weather. We have a white carpet aisle, great lighting, a sparkling backdrop and in-house PA system.
For 2019 we have exclusive access to the Canmore Ranch which is located 2 mins drive from the theatre. It is a private ranch with spectacular views of the mountains, full service bathrooms and ample parking. The ranch has two archways for couples to choose from and because the Ranch is exclusively ours, couples can extend their regular 3 hour timeslot and use the Ranch after their ceremony for lawn games, appetizers and drinks while they have photos taken.
We also offer a full ceremony service to Rundleview Parkette which is our favourite Town of Canmore outdoor ceremony locations. We are currently offering the same package to Quarry Lake too.
Our full service includes rental, delivery, set up and tear down of white folding chairs, a signing table with linens and a Wedding Coordinator. We also have a battery powered PA system for rent too.
If couples book an outdoor ceremony with us they automatically get the theatre as a back up for an indoor option should the weather not cooperate?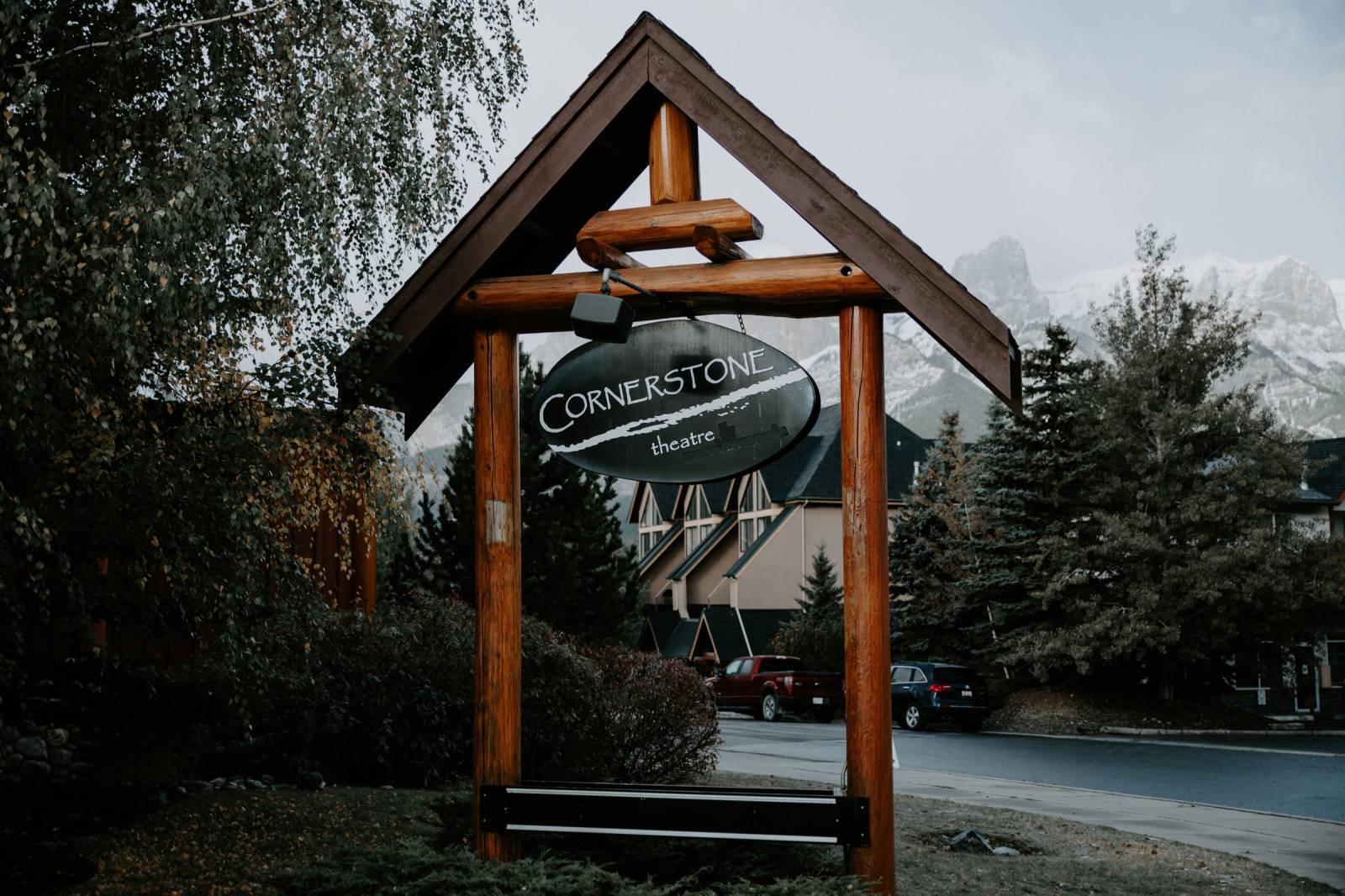 3. Do you offer food tasting?
Absolutely! All of our couples book a complimentary Food Tasting and Planning meeting 4-6 months prior to their wedding day. They get to sample menu items and chat with their Wedding Coordinator and make plans for their day.


4. Do you offer dietary options (vegan, gluten free etc.)?
Of course. Most of our menu items are gluten free. For other dietary requirements including dairy or nut free, vegan, celiac guests or any other allergy we can create new menu items or serve guests a meal to fit with their needs. Our buffet is clearly labelled so guests can also eat from the buffet too.


5. Do you offer plated meals or buffets?
We offer both. Most of our couples choose buffet, however we have fabulous plated meal options too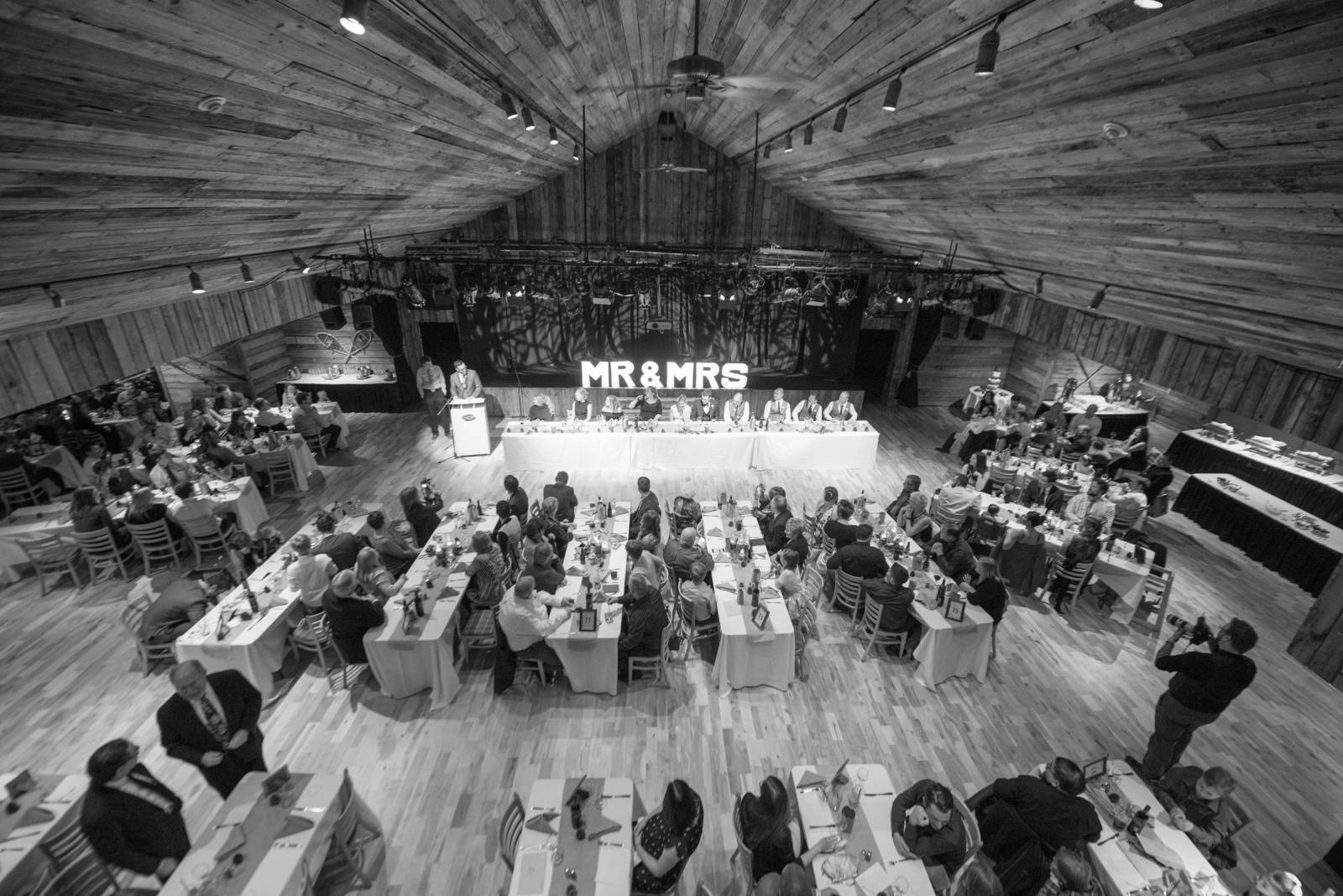 THE DETAILS:
1. Tell me about the level of service or services couples receive that they may not know about with Cornerstone?
We certainly pride ourselves on the high level of service we offer not only to our couples but to all of their guests too. This shows in the wonderful reviews we receive on Facebook and Wedding Wire as almost all of them comment on the service and our staff.
One of the biggest and possibly most important things we offer as standard is a setup and tear down service. This includes our tables and chairs, but also any décor the couple brings including centrepieces, favours, seating chart, guest book, items for our stone fireplace etc. At the end of the evening we box everything up and the couple picks it up the following morning around 11 am. Many couples and their guests who have been a part of other weddings comment that this is what drew them to the theatre initially.
Overall, we are a full-service venue, we take care of the big items such as the ceremony, the reception, linens, food, beverage, and DJ, but we also care about the smaller details and what the couple's vision is and what is important to them.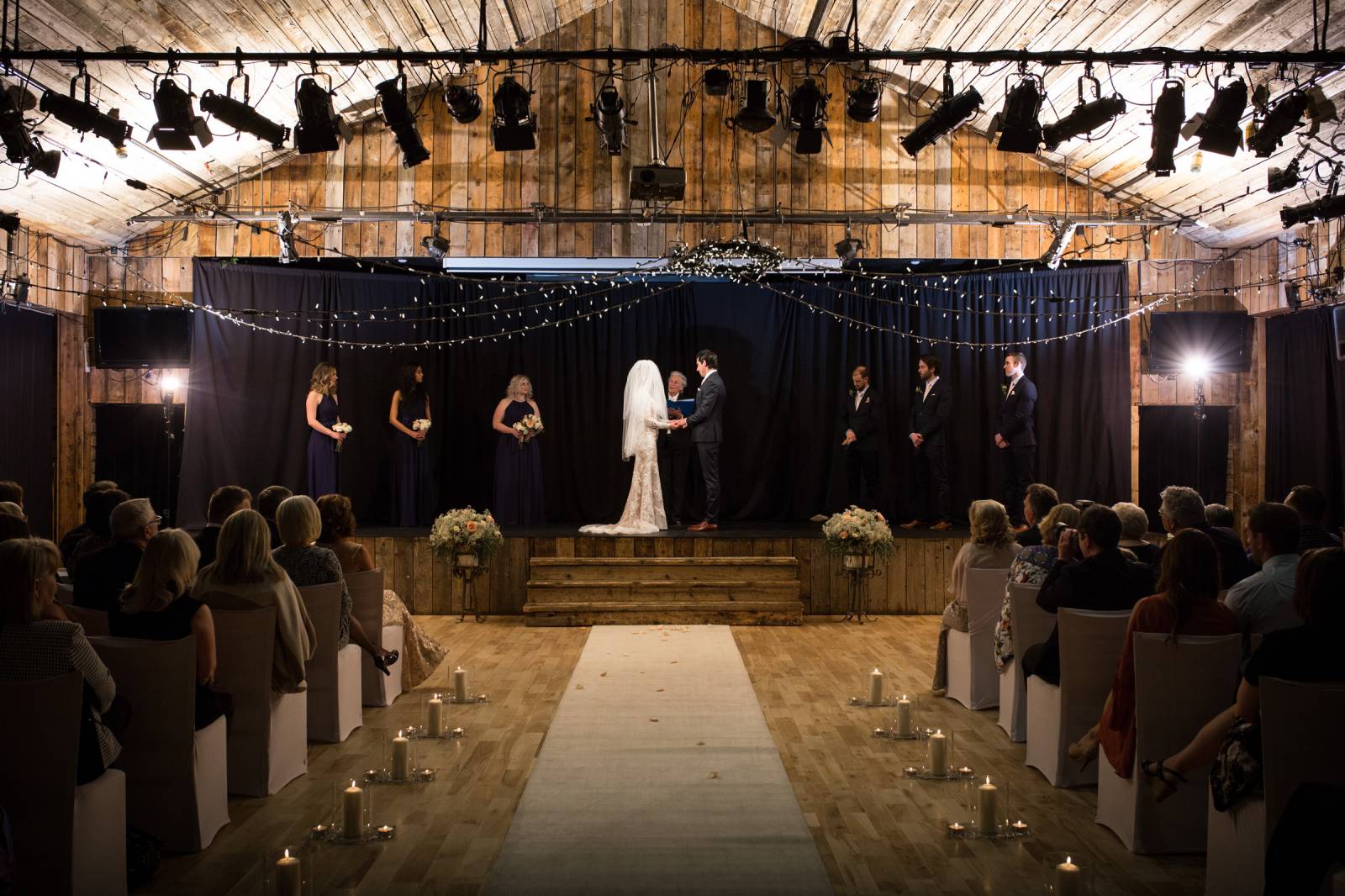 2. Many people don't get excited about the idea of banquet food. Tell me about your chef and the food you offer for weddings?
We employ 3 Red Seal Chefs which is a prestigious certification in Canada that is internationally recognized. We also have a great kitchen support team. Our food is Rocky Mountain inspired and we source as much as we can locally while still offering a competitive price. Our Executive Chef has been working in kitchens since he was 10 years old and is extremely passionate about the food he serves. We offer different price points for our menus so couples can choose something that will fit their budget. All of our buffets have a chef attended carving station that elevates the service aspect and is something the guests enjoy seeing.
One of the most favourite items so far for 2018 is our 72 hour Bison Stew.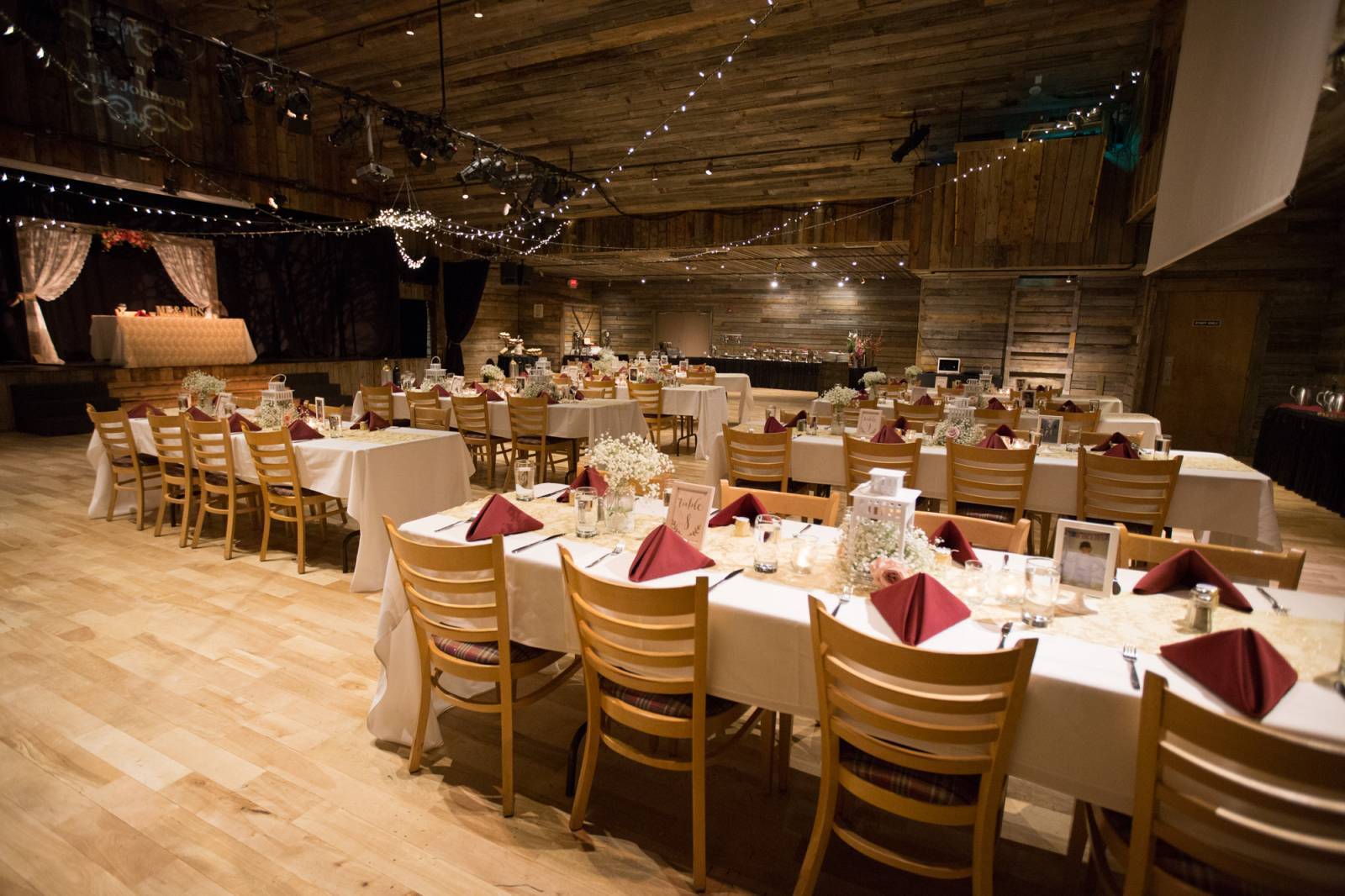 3. You have some unique add-ons to warm-up on chilly nights or provide a sweet treat to guests. Can you tell me about those?
We want to make the planning process for our couples as easy as possible so we decided to add some memorable extras to our brochure so they didn't need to source another vendor.
Our hot chocolate bar has been popular this winter. We include delicious hot chocolate with lots of fun toppings for guests to make themselves. For adults, we can also add in a shot of Baileys or Kahlua to get the party started!
Our candy bar has been very popular and we thought the trend was on its way out, but it still seems to be a great addition for many of our couples. Couples choose their candy from an extensive list and we set up the bar to fit with our rustic theme along with jars, containers, and tongs. Anything that is left over, the couple gets to enjoy the day after their wedding. It helps with any hangovers!
Guests also love our s'mores bar and this is popular year round. Guests young and old enjoy toasting their marshmallows and putting together their own s'mores. It's also great for international guests to see a bit of Canadian food culture.
We continue to look at wedding trends so we can create new products and services for our couples.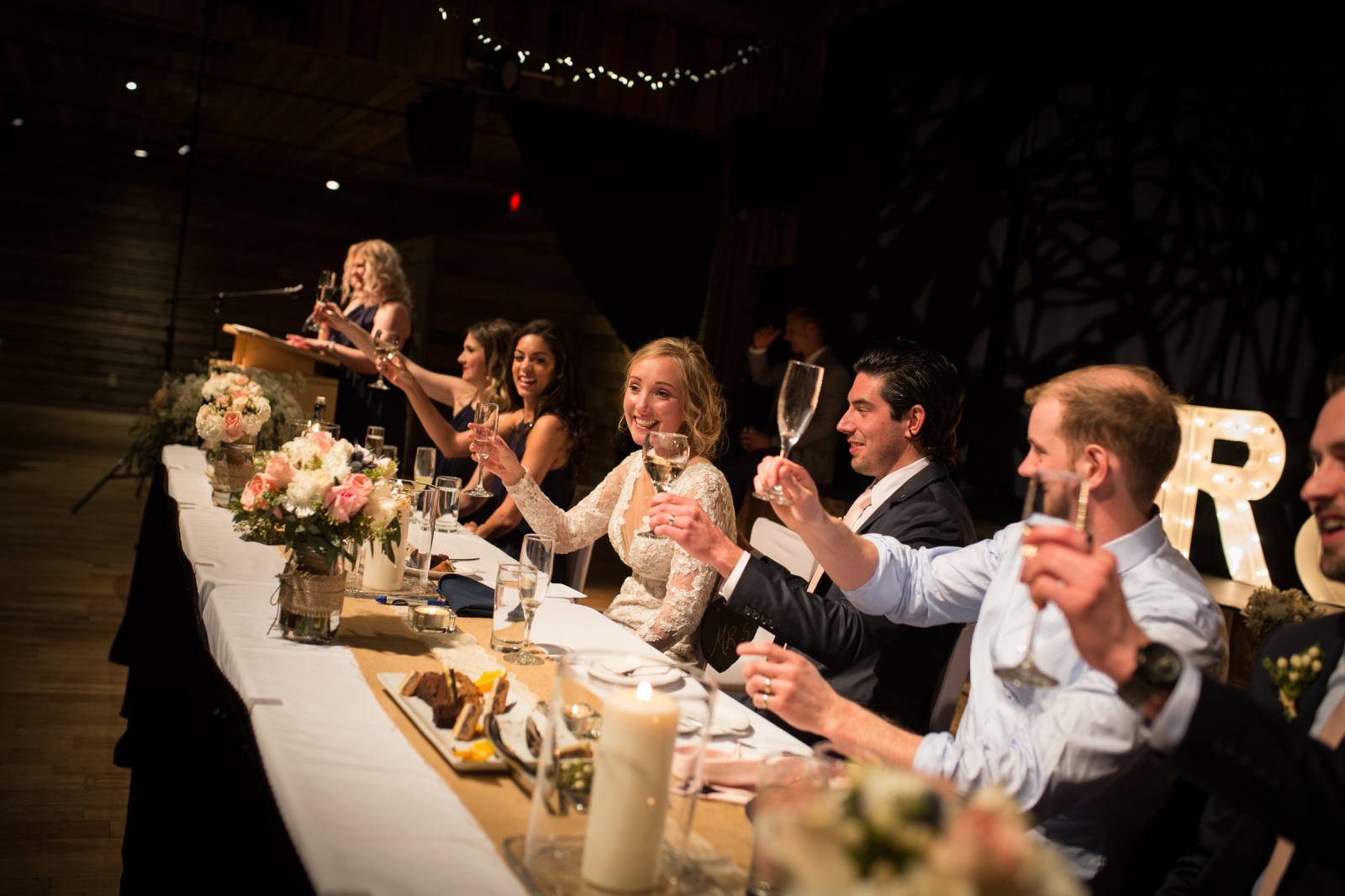 4. What else makes Cornerstone Theatre a fabulous choice for a wedding?
We are exceptionally lucky that we get to work at Cornerstone Theatre. The building has a beautiful rustic charm that couples fall in love with instantly. The space is exclusively theirs for the day and we offer great products and services at a competitive price.
However, what I believe makes us stand out is that we care about our couples and their guests and treat them like family. Our entire team is committed to ensuring everyone who attends the wedding is taken care of and has a memorable time. We understand that the wedding couple, bridal party and their immediate family are the VIP's, but there are 100-150 other people in the room that we take care of too, ensuring everyone leaves happy.
Our staff is outstanding and our reviews emanate this week after week. We consistently go the extra mile to ensure all the details are taken care of.
We have years of experience and we constantly tweak our procedures, products, and service to ensure we are consistently offering the best. Our mission is to exceed expectations and we successfully achieve this.